MayFair

Mayfair is a unique project located in one of the most active areas in the heart of Cairo on the ring road in Maadi. Mayfair Compound has a residential units with areas range from 130m to 160m and a commercial mall with areas range from 25m to 600m. Mayfair has a unique interior design with a view on green areas and unique landscape.
Location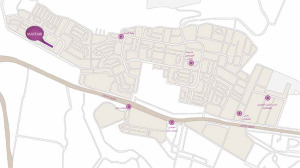 Block 31 District 3 El hadaba el wosta mokattam,200m2 over sea level.
Components
Consists of 4 floors plus the commercial ground floor each floor has 30 apartments with a spacious green areas all around you
Spaces start of 130 m2 for the residential units
Mayfair mall on the ground floor offers you with 100 commercial unites , spaces starts of 25m2
Reachable area with a green view that provides you with a healthy air and peaceful environment which allows you to have social relation with your neighbors, modern buildings and fountains.
Finishing specifications:
Half finished residential unites which allows you to have colors and decoration of your own taste
Finished entrance (marble, granite and mirrors)
Central entertaining satellite and intercom
Landscape and gardens for the ground floor units